Sugar-free beverages for the Chinese market
Zero sugar, zero calories, zero fat... People are seeing these labels more often on the beverage bottles and cans in the supermarkets, how is the Chinese market for sugar-free beverages?
Author: Ba Jiu Ling
The Market of Sugar-free Beverages will Double Within 5 Years
Zero sugar, zero calories, zero fat… People are seeing these labels more often on the beverage bottles and cans in the supermarkets, aimed directly at China's increasingly health-conscious shoppers.
According to the following article on Antion, the sugar-free beverages for the Chinese market will double in the next five years.
The market size of sugar-free beverages grew from $1.66 billion in 2014 to $11.78 billion in 2020, with an annual growth rate of 38.69% and a seven-year growth rate of 609%, far exceeding the total growth rate of the beverage industry.
Meanwhile, the number of surveyed consumers who said they would prefer to buy sugar-free products in 2020 has reached 78%, and the penetration rate of people buying sugar-free or reduced-sugar beverages has increased from 36% in 2018 to 55% in 2019.
Here are both industry analysis for the upstream and downstream of the sugar-free industry; there are also some business methods shared by the head players.
Is "sugar-free" really sweet and healthy?
The most discussed topic among consumers about sugar-free beverages is taste, followed by appearance and packaging, price and freshness.
Most consumers buy sugar-free beverages to satisfy their cravings without gaining weight.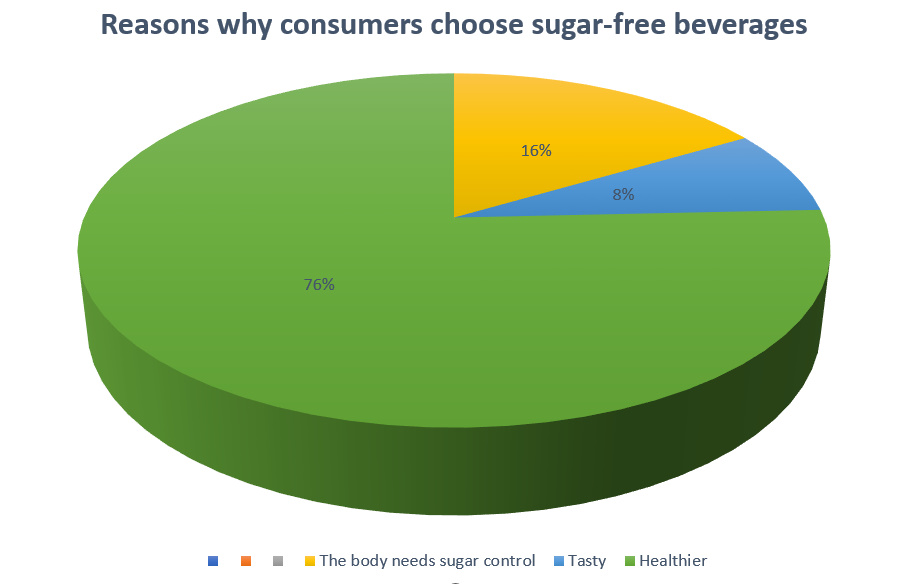 But in the face of sugar-free, many people still worry whether these sugar-free drinks really have zero sugar, zero additives and zero burden – that is, they won't gain weight if you drink them?
Let's answer the first question, sugar-free is not zero sugar.
A: "Sugar-free" is not the same as "sugar-free".
According to the national food safety standard "prepackaged food nutrition labeling general rules", "sugar-free food" means that the amount of sugar per 100 grams of solid or 100 milliliters of liquid food does not exceed 0.5 grams.
Therefore, "sugar-free" is only a limit to the amount of sugar in food.
This leads to a question: If there is no sugar, why is it sweet?
Because of sweeteners.
The common sweeteners on the market are mainly divided into artificial sugar substitutes, natural sugar substitutes and sugar alcohol substitutes.
But sweetness is associated with safety.
Artificial sugar substitutes are mainly divided into saccharin, sweetener, aspartame and other six varieties, with high sweetness and low cost, but the safety of potential hidden dangers such as carcinogenesis and lower immunity, has been banned by the health departments of the United States, Japan and other countries.
Natural sugar substitutes are mainly extracted from natural plants such as stevia and rooibos, which also have the advantage of high sweetness. But again, the safety of steviol glycosides has not been unanimously recognized by the world's medical community, and its carcinogenicity is still debated in academic circles and may have an impact on male fertility, and has been banned by the United States, the European Union, Singapore and many other developed countries and regions.
Compared to the first two, sugar alcohol substitutes are safer and more likely to cause diarrhea in people who are intolerant to sugar alcohols or who consume too much of them.
In addition, according to the current research results, sugar alcohol sugar substitutes are a little safer than the other categories.
In today's market, the more prominent one is erythritol.
It is the sugar substitute of choice for many brands because of its positive sweetness, good taste, and low hygroscopicity for extended shelf life.
Along with the emergence of "sugar-free" wind, China's erythritol production from 39,800 tons in 2018 to 80,000 tons in 2020, a range of up to 101%, erythritol in the sugar-free beverage industry chain occupies an important position in the upper reaches.
Nonetheless, the "New National Beverage Category Report for Sugar-Free Beverages" believes that it still has a lot of room for growth, as the proportion of sucrose and fructose syrup is currently as high as 90% of the market share, and synthetic sweeteners and other sweeteners combined are only 10%.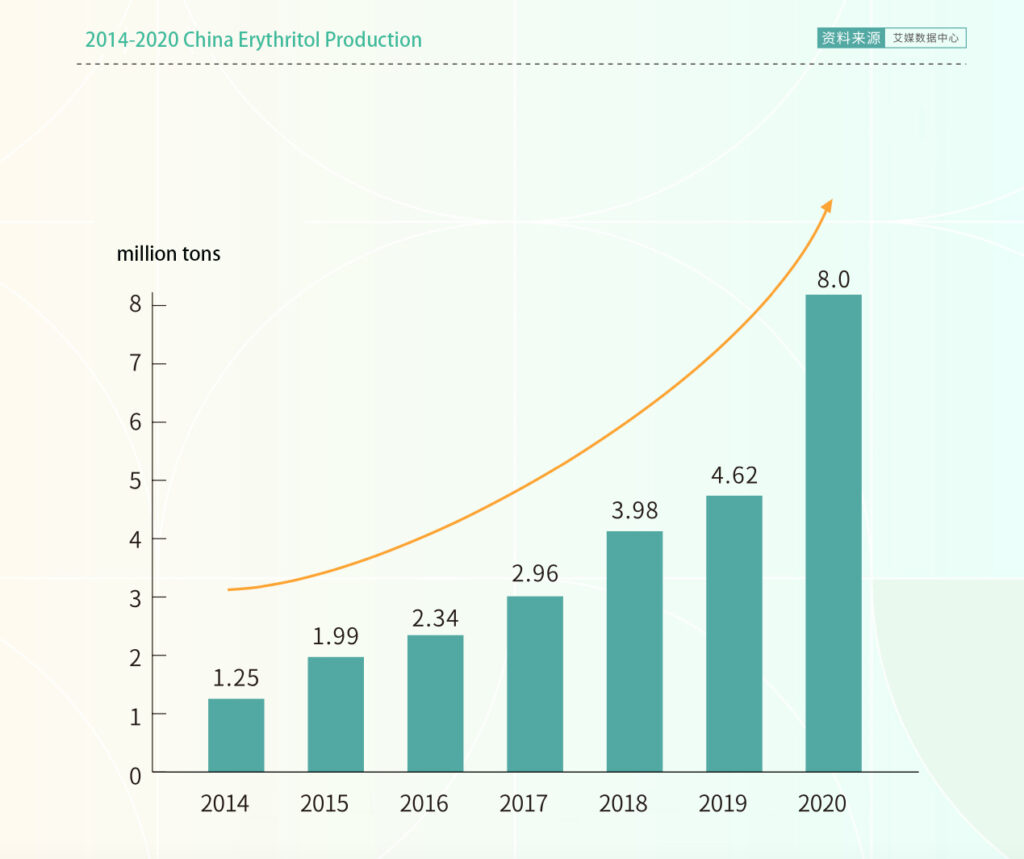 Who is drinking sugar-free beverage?
Consumers of sugar-free beverages are mainly young people aged 18-30, accounting for 69.07% of the total consumer population; in terms of gender, nearly 70% of sugar-free beverage consumers are women; geographically, consumers are mainly concentrated in first-, second- and third-tier cities, accounting for 62.8%; in terms of preference, consumers in first- and second-tier cities have a stronger preference for sugar-free beverages.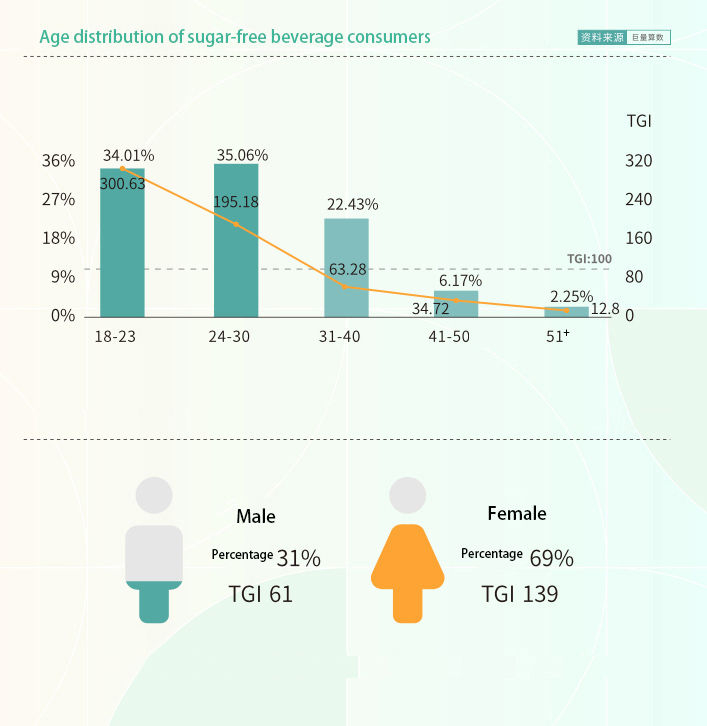 So, is it really healthy to put in a full diet of sugar-free cola?
According to the people's news, a study found through long-term follow-up: the same drink carbonated drinks, drink sugar-free fat more people, more people get diabetes. Doctor analysis, 0 card 0 sugar drinks are healthier and safer than ordinary drinks, but mentally speaking, we think sugar-free will come in two more cans. In addition, "0 calories 0 sugar" drinks contain appetite-stimulating ingredients but will make us want to eat, increasing the risk of obesity, diabetes and so on.
In this regard, the industry pointed out that plain water is certainly the healthiest. If you don't have the habit of drinking before, then don't deliberately drink sugar-free drinks because of the sugar substitute without calories; but compared with sugary drinks, "sugar-free drinks" is undoubtedly a healthier choice.
Therefore, although "sugar-free" is good, remember not to crave it.
After all, its price is not really high either.
According to the "Sugar Free Drinks New National Goods Category Report", sugar free drinks products in the price range of 1-5 yuan are the most popular. The pricing of the top 100 sugar-free beverage products on the Jitterbug platform is mainly focused on 1-5 yuan, accounting for 73%.
The new national product experience in the sugar-free track
At the beginning of 2022, according to Sina Finance, "Coca-Cola and Pepsi" had made a ruthless statement.
"This year, we are determined to take down Genki Forest!"
Genki Forest was established less than 6 years ago, and it has entered the hinterland of the century-old brand Coke, making the two cola giants feel a touch of hidden worry.
What's more, it's not just Genki Forest.
Looking at the overall layout of the old and new national beverage brands, the new national products represented by Genki Forest and the traditional national brands represented by Nongfu Spring have entered the sugar-free beverage circuit and are competing with the traditional market dominator Coca-Cola in multiple segmentation dimensions such as carbonated drinks, tea drinks, protein drinks and coffee.
But these up-and-comers are also under the tutelage of international giants.
A decade ago, China's consumer goods supply chain network was mature in areas such as toiletries, household products and food, but most of the local capacity at the time was OEM for international brands.
During 2012-2015, China's FMCG market became increasingly competitive. International giants had to transfer some of their product design functions from their European and American headquarters to their Chinese homeland in order to better understand and adapt to the Chinese market, and since then, some young Chinese people have slowly drawn advanced experience in designing consumer goods directly from the complete industrial chain organized by large international companies.
When they started their own business, they had advanced international experience in one hand, while backed by a strong and complete Chinese supply chain network.
Let's take Genki Forest as an example.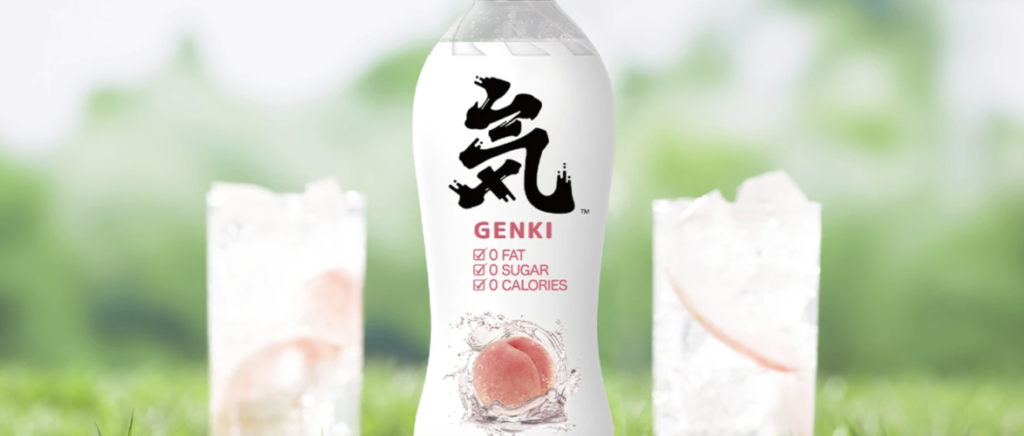 Genki Forest is a beverage company that has introduced the Internet lean startup thinking model to the traditional industry.
They make beverage products, ranging from positioning and flavor selection to packaging styles, all of which are first modeled after Internet thinking to create MVPs (Most Minimalist Viable Products).
Subsequently, the A/B test method to collect user feedback, and then analyze the data, rapid iteration, and through the user to do 0 sugar 0 fat education, to strengthen the user's mind.
In terms of marketing, in addition to the regular models, Genki Forest will also design seasonal flavors and special flavors to capture the characteristics of young people who love to taste and are willing to share through each flavor and form a circle to spread in communities such as Wotobuy and Douban to further expand its influence.
However, without its own supply chain, it will never be able to stand up.
This is the new experience they gained when "Coca-cola and Pepsi Cola" besieged Genki – even the most high-powered game needs the supply chain to support.
According to public information, since 2019, Genki Forest is trying to make up for its shortcomings.
In three years time, it has completed the layout of five "forest factories": Anhui Chuzhou, Guangdong Zhaoqing, Tianjin Xiqing, Hubei Xianning and Sichuan Dujiangyan and other own factories.
The moat of "sugar-free"
Young people's favorite products, naturally become the darling of the capital market, sugar-free drinks track also began to become crowded.
According to Chengdu Business Daily Red Star News, only 2020, Yiran milk mineral sparkling water, unified tea bar, Yinlu Mountain tea painting sugar-free tea, Jianlibao micro-brewed water, Kangshifu cold-brewed green tea, Bingfeng Fu tea, Nestle Youhuo sparkling water, Xi Xiaocha sparkling water and a host of other emerging sugar-free beverages debut one by one.
In terms of categories, sugar-free carbonated beverages and sugar-free tea drinks have become the most rapidly developing segment of sugar-free beverages, currently ranking first and second in scale, and the scale is far greater than others. In addition, the concept of sugar-free is penetrating to other sub-categories, such as functional drinks and protein drinks, and other vertical areas have appeared sugar-free products.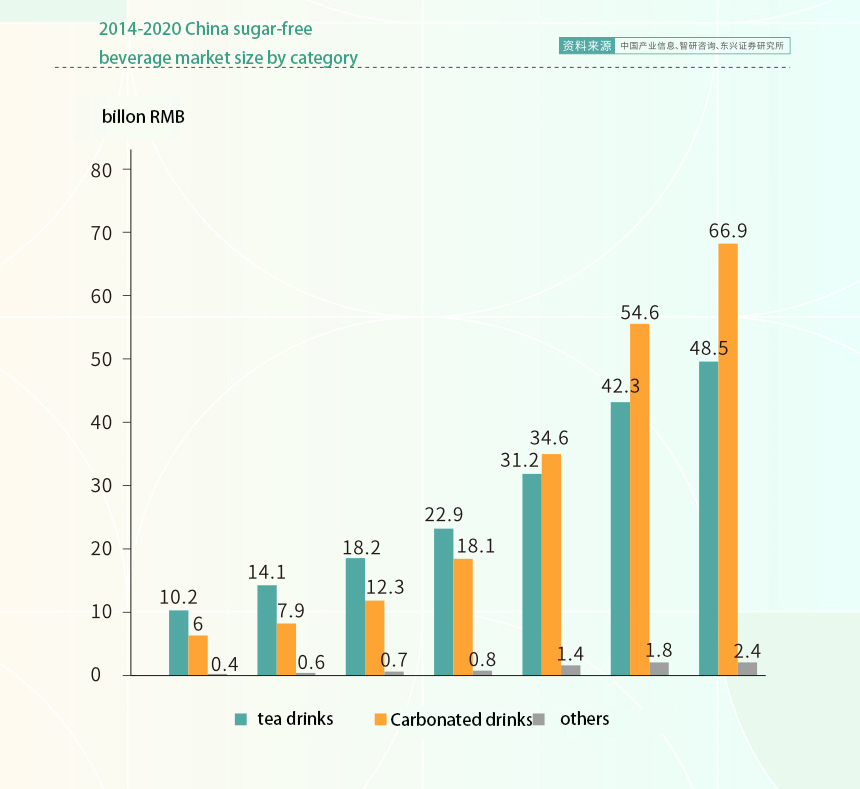 What people value is the future growth space.
The Report on the New National Category of Sugar-free Beverages mentions that sugar-free carbonated beverages have at least ten times the development space; sugar-free tea beverages are in the early stage of the outbreak and are expected to double in size in 2024.
China's tea beverage market size in 2019 is 78.7 billion yuan, of which 4.85 billion yuan is sugar-free tea beverages, only about 6% of the share. According to the Dongxing Securities Institute forecast, 2019-2024 China's sugar-free tea beverage category market can maintain a growth rate of more than 20%, by 2024 sugar-free tea beverage sales of up to 11.5 billion yuan, accounting for 12% of the tea beverage market share.
But who can have a "moat" in it?
Technology upgrades and product innovation is the core issue.
For example, sugar-free tea drinks and "0" preservatives must rely on advanced production lines and high-end technology.
Brands to achieve products without preservatives, you must have a cost of hundreds of millions of dollars of Log6 level aseptic filling technology production line to ensure that the production of products without the need for preservatives.
Although the addition of the right amount of preservatives in line with national standards, but a few national brands have begun to "0 preservatives" product innovation attempts, and in the industry chain, technology innovation to actively explore.
According to the news revealed by Genki Forest 2021: there are less than 30 production lines of Log6 level aseptic filling technology worldwide, Yuanqi Forest has already put 8 into production, and will put 16 more into production in 2022.
And according to Xinjing News, Nongfu Spring currently has high-speed aseptic filling equipment that meets Log6 aseptic standards as well as a research and development team that can realize independent research and development and production of products with health attributes.
Commercial and Home-made sugar-free soda water machine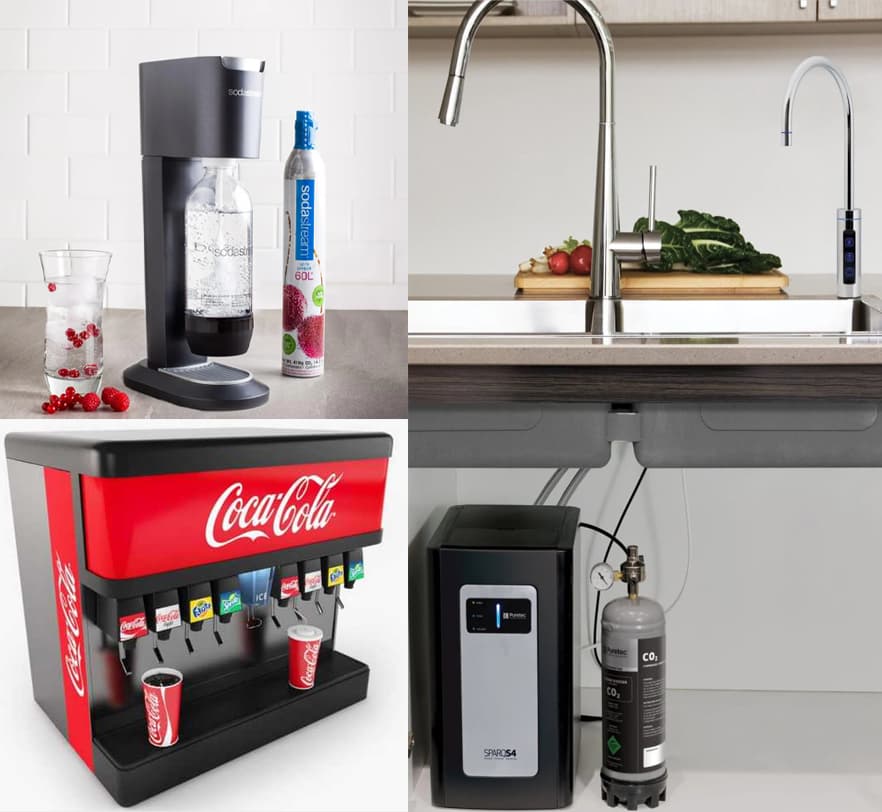 Based on the increasing demand for sugar-free beverages, especially sugar-free sparkling water, the commercial and household sparkling water machine market is growing rapidly, with Sodastream as the representative brand gaining rapid development in this field.
At the same time, the under-sink drinking system represented by Zip, Billi, Quooker, Hcdrink opened the market of under-sink soda water chillers.
See the author's other article on the soda machines market.