Full knowledge of boiling water tap
This article mainly expounds that the boiling water tap provide the filtered boiled water for us, which brings great convenience to our life.
Boiling water tap or what we call under-sink hot water dispenser has become very popular in recent years. Especially in the UK, Australia, Netherlands, etc countries. But what is it and how does it work, is it safe to use? Is it worth buying and how much is it? Are there any brands to choose from? This article will give us a comprehensive introduction to all the knowledge of boiling water taps.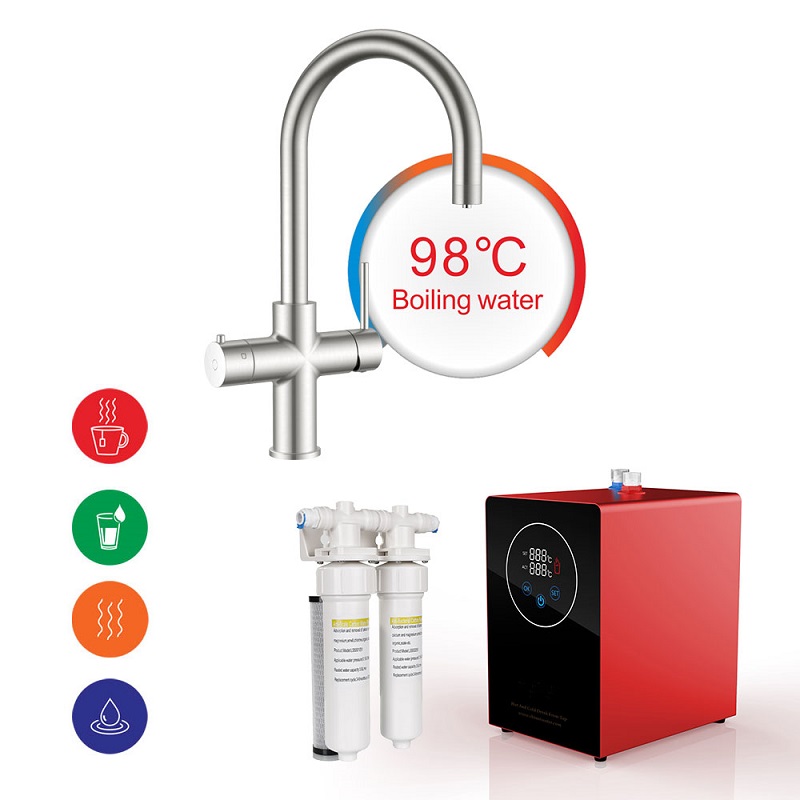 what Is a boiling water tap?
When it comes to boiling water taps, it is like a regular kitchen tap or what we call a kitchen faucet that sits in your sink, the boiling water tap connects with a water boiler and filter under the sink. So that the tap delivers filtered boiling water.
So it is a compact and practical solution for a water system combined with a kitchen tap, a boiler, and a filter to deliver at least boiling water.
Instead of waiting for the kettle to boil, an instant boiling water tap boils the water to steaming water or near-boiling water. It is instant to get the accurate temperature you need and the quantity as your want to have hot drinking water, and cook pasta with the temperature range setting from the boiler. As a result, your kitchen could turn more neat and efficient. Boiling water taps are now commonly found in homes, offices, restaurants, and commercial areas.
1. The history of boiling water taps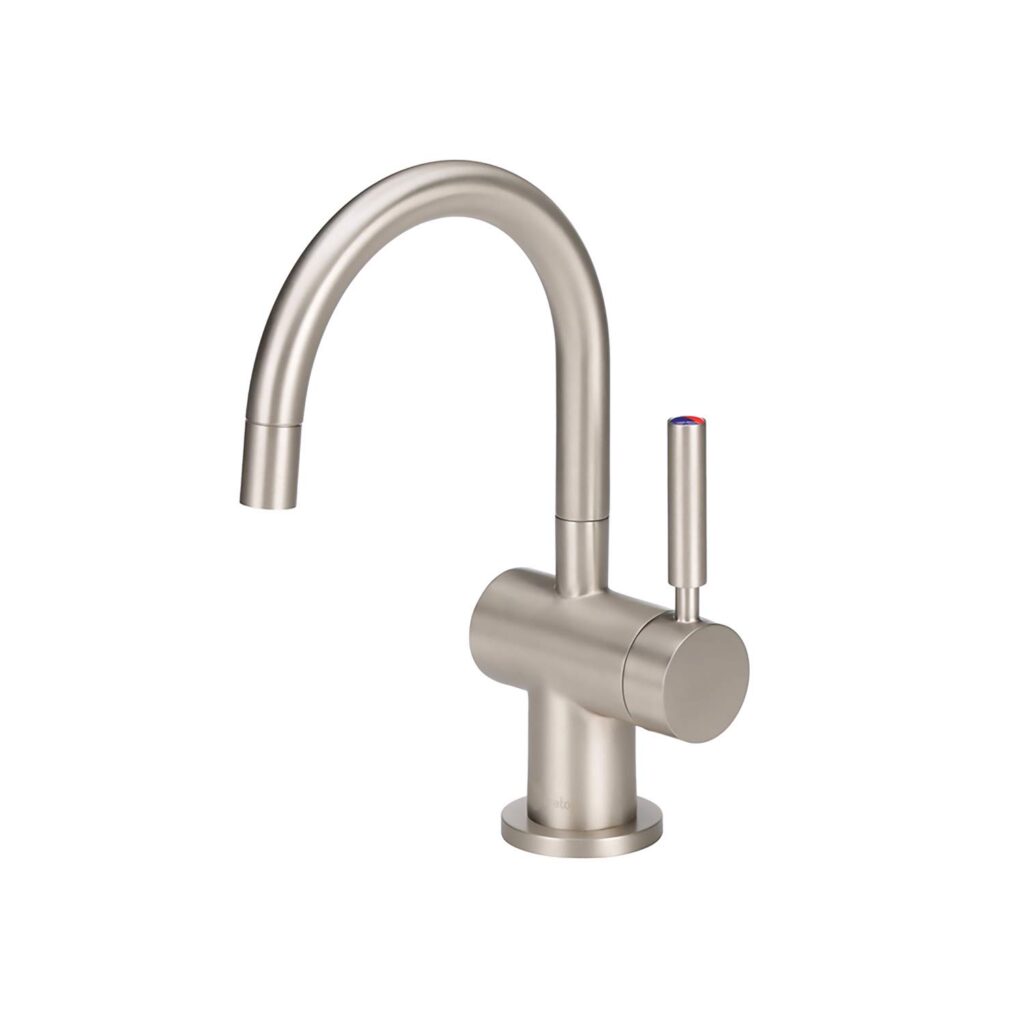 Although the first hot water tap hit the market back in 1973 by Insinkerator, the leading company for food waste disposal in the USA, it becomes popular in the UK because of the passion for drinking tea. Nowadays, boiling water taps became known around the whole world. And there are a few brands in different countries.
2. Category for boiling water taps-functions and boiler tank capacity
Categorized by functions, there are 5 types of boiling water taps
1. single boiling water tap
It works as a side tap beside the kitchen tap to deliver only boiling water or near-boiling water. It has a small size to sit on the hole for the liquid soap dispenser in the sink. A photo of ISE's side tap for reference.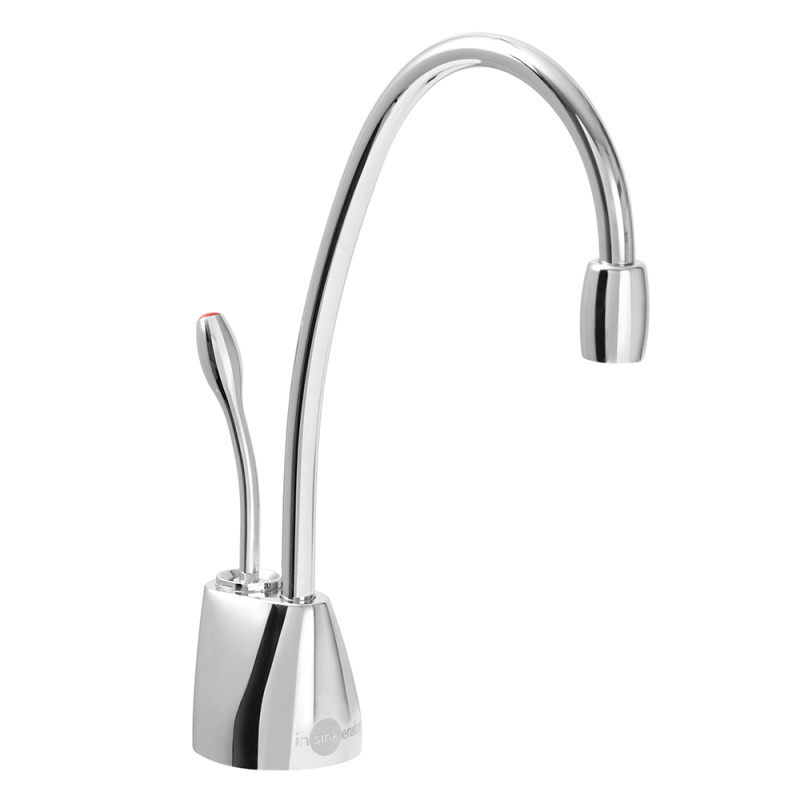 2.2in1 boiling water tap
Besides delivering filtered boiling water, the tap can also deliver filtered chilled water or normal-temperature filtered water. We can have an idea from HCdrink 2 in 1 model.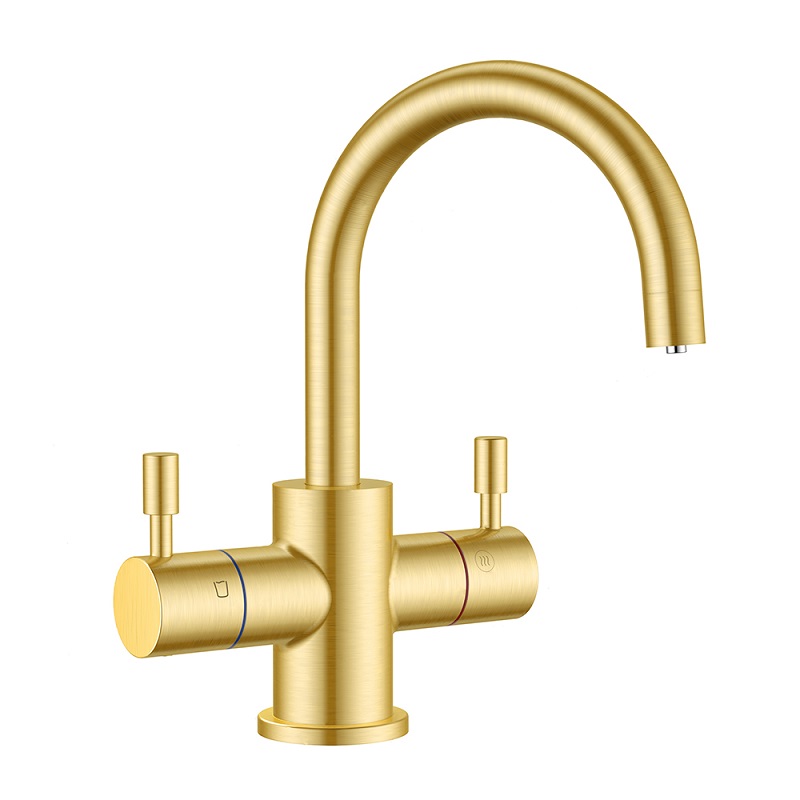 3.3in1 boiling water tap
With regular hot and cold functions as the kitchen tap, the added ability is to produce boiling water on demand. We can have an idea from Grohe red duo.
4.4in1 boiling water tap
There are 2 handles to deliver regular hot/cold as the normal kitchen faucet, and the other side delivers filtered cold water and filtered boiling water.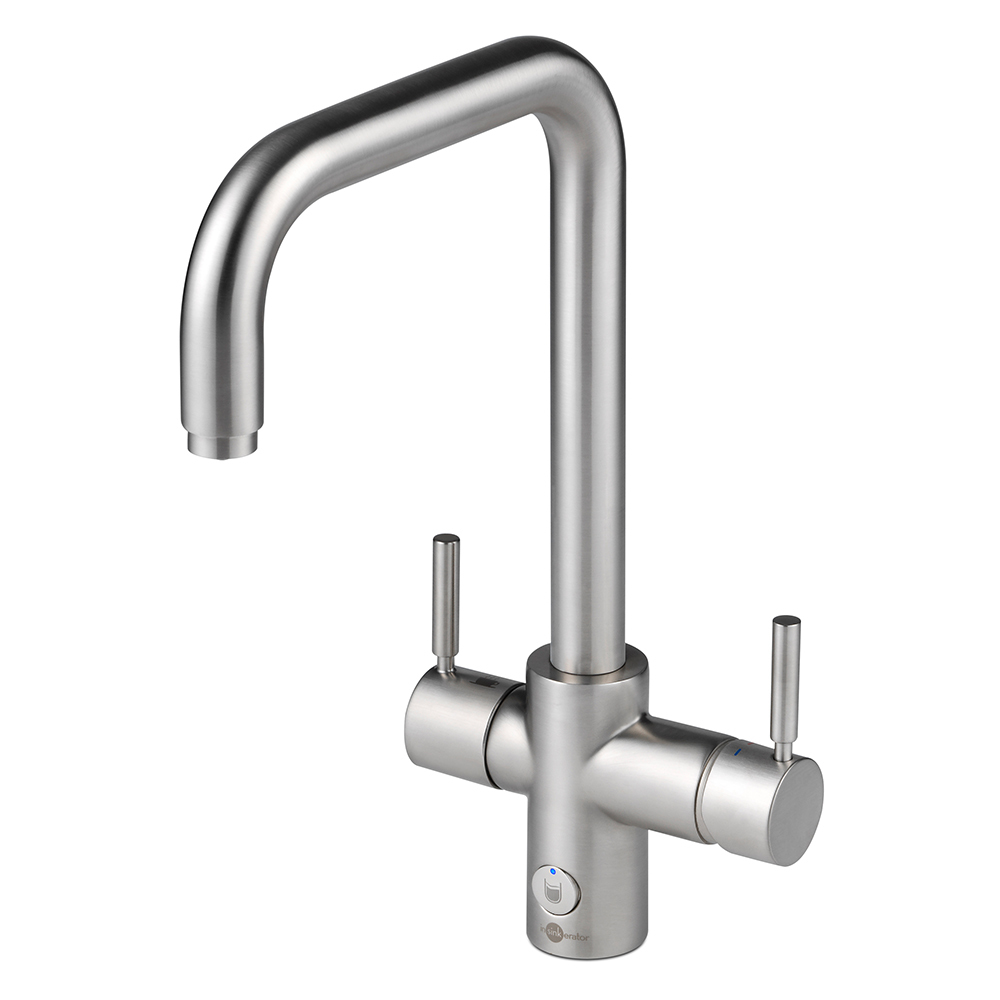 5.5in1 boiling water tap
We can consider that basis on the functions of 3 in 1, the tap delivers also filtered chilled water and sparkling water/carbonated water. It is a real do-it-all model.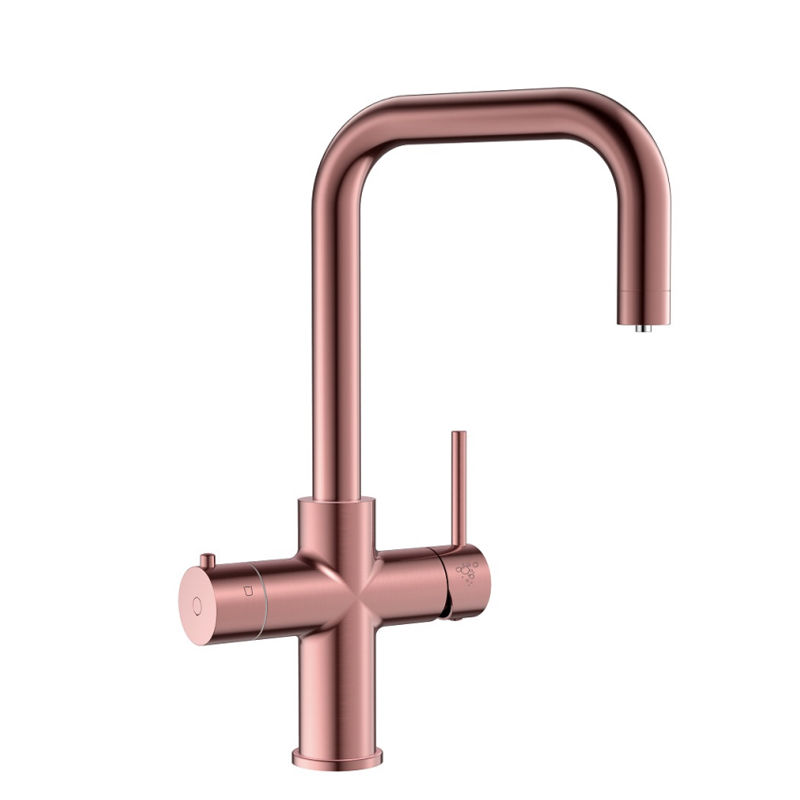 Categorized by boiler tank capacity, there are 2 models.
For home use
Quooker provides a 3L boiler tank, Zip uses a 3L boiler tank. ISE keeps all the boiler tanks at 2.5L. HCdrink produces a boiler tank for 2.4L
| Picture | Brand name | Boiler |
| --- | --- | --- |
| | Quooker | 3L |
| | Zip | 3L |
| | Insinkerator | 2.5L |
| | Grohe red | 3L |
| | Hcdrink | 2.4L |
For commercial use
Quooker provides a 7L boiler tank, Zip uses a 5L boiler tank. ISE keeps all the boiler tanks at 2.5L. HCdrink produces a boiler tank for 4L
| Picture | Brand name | Boiler capacity |
| --- | --- | --- |
| | Quooker | 7L |
| | Zip | 5L |
| | Insinkerator | 2.5L |
| | Grohe red | 5.5L |
| | Hcdrink | 4L |
3. How do boiling water taps work?
Structure for the complete system
It's more like hiding an electric kettle under the sink, the kettle is connected to a tap. In fact, it is not easy to just connect a kettle to a tap. Besides, an instant boiling tap can also work as an instant cold and hot tap dispenser under the sink, the water is boiled at the desired temperature and stored in the water tank. When you need boiled water, turn on the tap handle, and the boiling water is delivered to the tap spout through the food silicone tube. When you release your hand, the water supply will stop.
Obviously, the tank of the hot water is constantly connected to the sink's cold water supply with a filter, which means your kettle under the sink does not need to be manually filled with water and the water is filtered for a direct drink.
Pressurized system VS unpressured system
There are 2 different styles of under-sink water systems basis on different structures the water boiler-pressure system and the unpressured system.
Pressure refers to the steam pressure from the boiling water in the boiler tank. A pressurized system means that the water boiler tank is a closed tank, so it requires a vent to release the steam. We can see this in the diagram below from QUOOKER and understand how boiling water taps work.
For an unpressured system, there is a venturi bladder connected to the boiler, and inside the bladder, there is a silicon box that absorbs back the steam and boiling water inside the silicon tube for boiling water coming out from the faucet. Following a video to show the working of the venturi to have an idea how it works.
Built-in heating rod VS external heating plate
Most brands use the built-in heating rod to boil the water, the advantage is that the heating sound is low, and the disadvantage is that the water and electricity are not separated, the limescale is easily deposited on the heating rod, and does not easily clean.
The HCdrink uses an external heating plate. The advantage is that the water and electricity are separated, which makes it easy to clean the smooth tank.
What are the benefits of boiling water taps?
a. First important key is its convenience-Boiling a water tap is also more efficient than an electric kettle, you never need to wait for a kettle to boil, just get the boiling water with no time for a hot drink or cooking.
b.With a child safety lock to prevent scalding by accidental handling, plus a separate boiling water pipe keeps the tap spout cool, unlike a kettle where touching or knocking it over would be a great risk.
c. Thirdly, clean and healthy, compared to an electric kettle, The water source is not exposed to the air and there is no secondary contamination.
d.Boiling water tap is also great for people who want to have the counter neat without a filtration bottle or electric kettle. It saves space for the countertop.
f. The boiling water tap is different from the electric kettle because it can provide hot water according to demand without waste. For the kettle, even if you only need 50ML of boiling water, but you get to the point where you have to boil a 1.5L pot of boiling water, you have to waste the extra 1L of water.
g. For long-term cheap tap water the price of a ton of tap water is 3.08, which works out to 0.003 per ton, and a 500ml bottle of mineral water is 1.50. The correlation between them is 500 times, yes, you read that right, 500 times! Not to mention the amount of ice water and soda we consume on a hot summer day. Why not make effective use of tap water, which is so much preferable?
Key Q&A to understand more about boiling water taps.
1. Does boiling water tap installation need special plumbing or wiring and is it easy to install?
If installed under the sink, you already have hot and cold water pipes. So there is no special plumbing need. Just make sure there is enough power available. In general speaking, we suggest having a professional plumber install a pressure water system. And most companies believe DIY installations can be quite simple for the unpressured system, especially since the hoses have been preinstalled.
2. Is there a special requirement for water pressure for the boiling water tap?
It is necessary to check the water pressure in the house at pressure levels ranging from 1.5bar-3bar. If the water pressure is not at this range, the requested water pressure can be fixed by a water pressure regulator.
3. Can regular kitchen taps be used as boiling water taps?
No. The working principle of boiling water is different from that of normal kitchen taps, and there is a special pipe for boiling water to pass through to have a cooling touch from the tap spout.
4. Is it a must to use a filter and how often to change the filter cartridge?
Yes, in areas with very good water quality, we recommend using at least a single-stage anti-scale water filter, which protects the boiler tank to have a longer lifetime. In non-direct drinking water areas, it is recommended to use at least a two-stage water filter to have anti-scale and anti-bacteria together for the water coming into the boiler tank. In hard water areas where the TDS is above 500, it is recommended to use an RO filter. For HCdrink boiling water tap, we request to change filter cartridges every 2000L water flow or every 6 months.
Get more knowledge about water filters from the following article:
https://hcdrinkwater.com/choosing-a-water-purifier-guide/
5. Is a boiling water tap better than a kettle?
The boiling water tap is definitely better than the kettle, regardless of the initial investment. It is instant, convenient, safe, anti-scald, space-saving, saves electricity and water, etc.
6. I don't have warm water from the valve, can I get warm water for cleaning from the water boiler?
Yes. turn on both the cold water handle, meanwhile, turn on the boiling water, and the mixture comes out of the spout warm for washing in winter.
7. What is the difference between boiling water, near-boiling water and hot water?
The difference is the water temperature dispensed by the taps. Boiling water is at 100°C. Near boiling water generally refers to a max temperature of 98°C. Hot water is a customary name, some people refer to boiling water, others to warm water, so many people also call boiling taps hot water taps. HCdrink boiling water taps can be set to dispense anywhere between 55°C to 98°C for electric models.
8. Does a boiling water tap have to be installed in its own sink?
It can go in a normal bathroom sink if there is enough room to accommodate it. HCdrink boiler and filter can be mounted on the wall.
9. Are safe boiling water taps?
The best-boiling water taps have multiple safety features such as a child-safety lock and cooling touch spout.
It is not only simple to use but also prevents child accessing boiling water to protect young child, a brilliant child lock solved it. And a special food-grade silicone boiling water hose is concealed inside the tap spout, ensuring that the spout is insulated without Scalding.
10. Different functions of water come out of the same pipe?
There are separate pipes for boiling water, normal temperature filtered water, and normal cold&warm water, which is not only healthy but also guarantees the taste of the different water temperatures.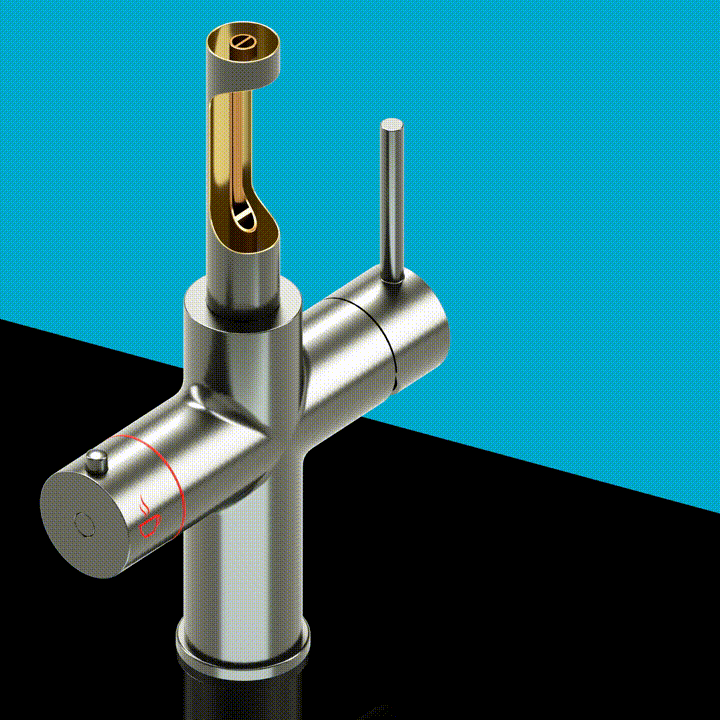 What can I use an instant hot tap for?
Boiling water taps are becoming increasingly popular in homes and commercial settings due to their convenience, speed, energy efficiency and space-saving. Hcdrink's electronic water boiler can be set to 14 different water temperatures to meet different water temperature requirements. It can be used for a variety of purposes, such as: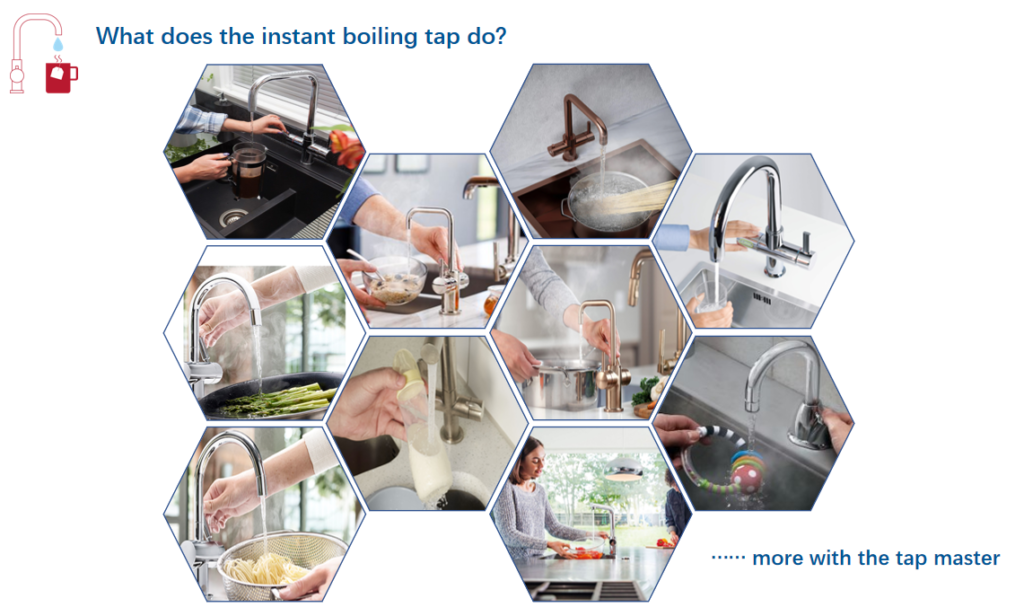 Making tea or coffee: With instant hot water taps, you can quickly and easily get boiling water to make your morning coffee or afternoon tea.
Cooking: You can use the instant boiling water from the tap for cooking purposes, such as blanching vegetables or preparing pasta.
Cleaning: Boiling water can be used for cleaning and sterilizing kitchen utensils, dishes, and surfaces.
Warming baby bottles: The instant hot tap can be used to quickly and safely warm baby bottles.
Instant soups and noodles: You can prepare instant soups, noodles, and other similar foods that require near-boiling water in a matter of seconds.
Filling hot water bottles: The instant boiling water tap can be used to fill hot water bottles for warmth during cold weather.
Smooth cutting: Run a knife under the hot tap for just a second, and you'll cut bread and spread butter with ease.
DIY and crafts: The boiling water from the tap can be used for a variety of DIY and craft projects, such as melting wax, shaping plastic, or removing labels.
How much do boiling water taps cost?
There are many brands of boiling water taps available on the market, how to choose? And what is the price?
HCdrink is a Chinese OEM manufacturer for producing whole under-sink water systems, we provide the factory price to our customers and set up your own brands in your country. All products have CE, WRAS, UL, UKCA, SAA, GS, PAHs, SCCP, WATERMARK, KTW, and KC certificates. And following the price list on the website with a collection of main brands for a general idea.
| Brand name | Filter Price | Total Price |
| --- | --- | --- |
| Quooker | $306 | $12499 |
| Insinkerator | $73-$125 | $1690 |
| Zip | $186 | $2695 |
| Franke | $91 | $1399 |
| Grohe red duo | $40-$104 | $1650 |
| Hcdrink | $44-$46 | $225 |
How to choose the best boiling water tap and hot water tap
You've found the most efficient and safest tap for boiling water. Installation of a hot-water tap is more powerful because it carries hot water and warm water from the mains. Although the taps are retrofitted, they are usually high-priced items that can easily be installed in conjunction with a brand-new kitchen, especially if you account for the storage area under the sink, which could be as small as a shoebox.
Boiling water taps guide
After the detailed introduction of this article, I believe you have a comprehensive knowledge of open taps, and finally look at how to choose them.
➧ step 1
First decide what you need to do with the water tap- This way you know whether you want single boiling water, single ice water, or a combination of functions.
➧Step 2
Decide the water volume you need for the family or workplace. 2.4L, 3L, or 4L etc. And check if the size below your sink is enough for the boiler or chiller.
➧Step 3
Choose the faucet shape and finishing you like to match your kitchen. What is a safety feature? Does it have a child lock or not?
➧Step 4
Check if you need a professional plumber for installation or DIY. Is it fitting and maintenance-friendly?
➧Step 5
Whether it is affordable or not. In the market, it varies from 300 to 2000 pounds. Our suggestion is to choose wisely according to your need and ability.
Finally, we recommend under sink water dispenser for your home, office area or commercial purposes, the boiling water tap is the best way to make hot water quickly for coffee or tea, You can also use this method to heat up food quickly,  such as cooking pasta or vegetables if necessary. Investing in a new boiling water tap might be worth considering. Or for the hot summer, If you want a truly sugar-free soda on a hot summer day or chilled water for cool, a fizzy tap is definitely the right choice. Not only is it sugar-free and healthy, but a minimum-size CO2 cylinder can guarantee a summer supply of soda water for an individual, which is
The basis on the production experience, the most important thing is that the boiler tank should be made from food-grade stainless steel material, the water pipe for boiling water on the tap should be a food-grade silicone tube, and the products with a CE certification are more trustworthy. The basis of this, brands do not make a big difference.
Other considerations to keep in mind when installing one
a. The functions you need-What are your daily water habits, are you used to drinking boiled water or ice water, or are you trying to keep fit by drinking sugar-free soda to feel full? Then depending on your family's water habits make the choice of the most suitable tap for you, a tap for boiling water + ice water or even a tap for boiling water + ice water + soda.
b. The size for your counter – When purchasing a new boiling water tap, be sure to consider how much space you have available on your stovetop or countertop as well as the size and style of your kitchen before making any decisions about which one is right for you
c. your budget-You can refer to the above brand prices against your budget.
How to keep your boiling water tap in top condition?
It is easy to make a teapot in 1-2 minutes and saves valuable kitchen space, reduces the need for single-use materials, and saves money over time. Nonetheless, it is imperative for your family to enjoy boil water taps for many years to come. The filter will be replaced every six months so the tap is fully protected against limescale buildups. Replacement filter purchases are available on the retailer's site here.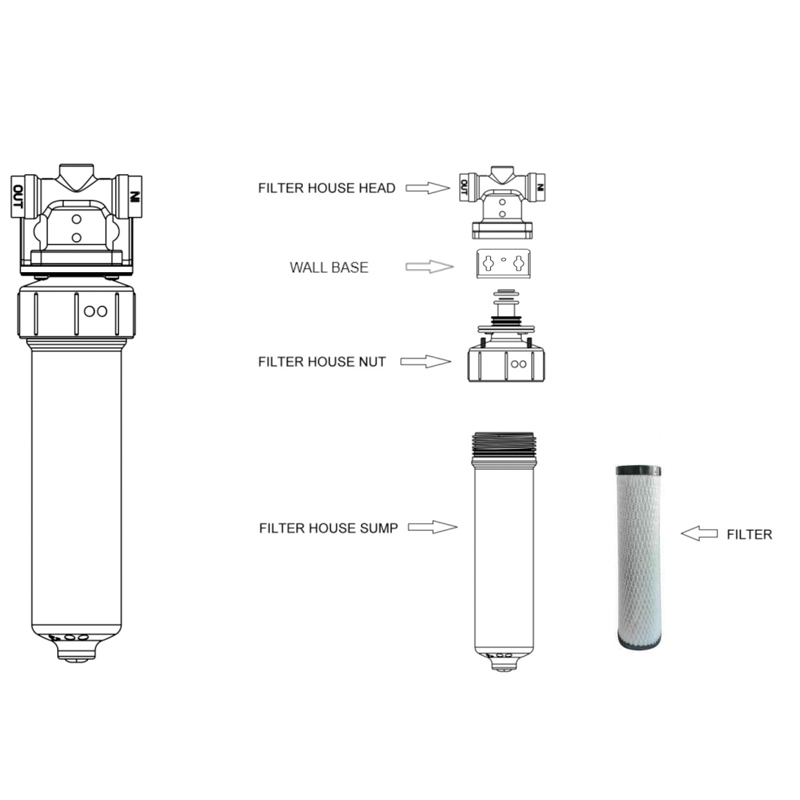 Definitely the most economical!